This product qualifies for FREE SHIPPING*
More Info
Roxy Syncro Ladies 2mm Shorty in Jet Grey/Coral Flame/Temple Gold. MAde with StretchFlightx2 neoprene the Syncro shorty is a highly flexible, stylish and technical wetsuit. Ideal for those looking to get out of a full suit for the summer, also good for SUP and all in water activities.
Roxy Syncro 2/2 Ladies Shorty - Short Arm Spring Suit
Roxy Syncro Ladies 2/2mm BZ Shorty Wetsuit in the popular Jet Grey/Coral Flame/Temple Gold colourway. The Syncro shorty features the latest technology and materials to make sure you stay warm enough to enjoy your time in the water. The Syncro is made using recycled polyester and elastane and uses water-based glues to minimise the environmental impact of the wetsuit.
The Roxy Syncro 2mm shorty uses Roxy's StretchFlight 2 neoprene to ensure maximum flexibility and also features a Hydrowrap adjustable neck closure and a Glideskin neck seal for added comfort.
For an idea of fitting the model is 175cm/5'9" tall and wears a size 6 in the photo
Roxy Syncro 2mm Ladies Shorty Wetsuit - Features
Fabrics: StretchFlight 2 neoprene for increased warmth and comfort without sacrificing flexibility

24% less CO2 emissions per wetsuit

Limestone-derivate eco-friendly neoprene made from scrap rubber tires and Bluesign® certified

Seams: Coil q-lock stitched seams

Print placement may differ slightly

Water-based glue used for lamination

Recycled polyester and nylon used for linings

Temperature: 18-21°c / 64 - 70°f

This is a guide only: Weather, sensitivity to the cold and conditions on your local break will affect temperatures and choice of equipment

Entry system: Back zip entry system with YKK® #10 plastic zip

Glideskin neck seal

Hydrowrap completely adjustable neck closure system for a watertight seal

Composition: 88% Recycled Polyester, 12% Elastane
MPN: ERJW503019-XSMY-10
More Information

| | |
| --- | --- |
| MPN | ERJW503019-XSMY-10 |
| Wetsuit type | 2mm Shorty |
| Gender | Ladies |
| Zipper Type | Back Zip |
| Neoprene Thickness | 2mm |
| Wetsuit Features / Technology | Back Zip, Roxy Coil Qlock Stitched Seams, Roxy StretchFlight 2 Neoprene, Super Seal Glideskin |
Roxy Wetsuit Size Guide For Ladies
This size guide is provided by Roxy. When fitting a wetsuit is really important to remember it must fit snugly and should not be "easy" to get on. A wetsuit will give in height or width so if you are perhaps a little taller than the guide but slimmer the suit will probably stretch height with you and become a little slimmer in doing so.
| | | | | | | | | |
| --- | --- | --- | --- | --- | --- | --- | --- | --- |
| SIZE US | SIZE UK | HEIGHT (cm) | WEIGHT (kg) | CHEST (cm)    | WAIST (cm) | HIP (cm)          | NECK (cm) | INSEAM (cm) |
| 2 | 4 | 160 - 165 | 45 - 54.5 | 77.5 - 82.6 | 58.4 - 63.5 | 83.8 - 88.9 | 27.9 | 68.6 - 71.1 |
| 4 | 6 | 163 - 168 | 47.5 - 56.5 | 80 - 85.1 | 61 - 66 | 86.4 - 91.4 | 29.2 | 69.9 - 72.4 |
| 6 | 8 | 165 - 170 | 50 - 59 | 82.6 - 87.6 | 63.5 - 68.6 | 88.9 - 94 | 30.5 | 71.7 - 73.7 |
| 6T | 8T | 168 - 173 | 52 - 61 | 82.6 - 87.6 | 63.5 - 68.6 | 88.9 - 94 | 30.5 | 72.4 - 74.9 |
| 8 | 10 | 168 - 173 | 54.5 - 63.5 | 86.4 - 91.4 | 67.3 - 72.4 | 92.7 - 97.8 | 31.8 | 72.4 - 74.9 |
| 8T | 10T | 170 - 175 | 56.5 - 65.5 | 86.4 - 91.4 | 67.3 - 72.4 | 92.7 - 97.8 | 31.8 | 73.7 - 76.2 |
| 10 | 12 | 170 - 175 | 59 - 68 | 90.2 - 95.3 | 71.1 - 76.2 | 96.5 - 101.6 | 33 | 73.7 - 76.2 |
| 10T | 12T | 173 - 178 | 61 - 70 | 90.2 - 95.3 | 71.1 - 76.2 | 96.5 - 101.6 | 33 | 74.9 - 77.5 |
| 12 | 14 | 173 - 178 | 63.5 - 72.5 | 93.9 - 99.1 | 74.9 - 80 | 100.3 - 105.4 | 34.3 | 74.9 - 77.5 |
| 12T | 14T | 175 - 180 | 68 - 77 | 93.9 - 99.1 | 74.9 - 80 | 100.3 - 105.4 | 34.3 | 76.2 - 78.7 |
| 14 | 16T | 173 - 178 | 72.5 - 80 | 97.7 - 102.8 | 78.7 - 83.8 | 104.1 - 109.2 | 35.6 | 74.9 - 77.5 |
| 16 | 18 | 175 - 180 | 77 - 86 | 101.6 - 106.6 | 81.3 - 86.4 | 106.6 - 111.8 | 36.8 | 74.9 - 77.5 |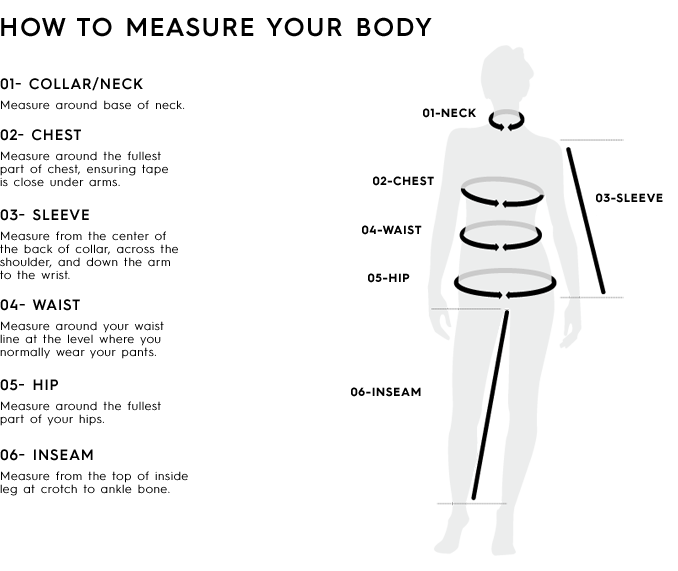 Putting on a wetsuit correctly
Ensure all zips are fully open and turn the torso down to the waist.

Turning the torso down is more critical with a chest zip or zipperless wetsuit!

Holding the ankle open push your foot into the suit
Once your foot is through the ankle work the suit up your lower leg in small stages.

Grip the suit with the pads of your finger tips NOT YOUR NAILS to avoid damaging the suit.
Work the suit up by holding the suit a few inches above the ankle.
Then move up a few inches and worjk the suit up again

Continue this process up the lower leg and ensure the knee protection is high (better to be slightly too high than too low!)
Work the suit over the upper leg in the same way 
Ensure that the crotch of the suit is very high and snug to your crotch before starting to work the torso up.
Again work the torso up in small stages (A good fitting suit will not allow you to simply pul it up the body easily)
For both chest zip and back zip suits pull the torso over your chest
Ensure that there is no slack between the crotch and the top of the suit.
Back Zip

Slide 1 arm into the suit again working the sleeve over your arm in small stages starting at the wrist and working up.
Once up fully slide the other arm in a repeat 
Once both arms are in push your shoulders back and pull the zip.
Once in the suit stretch fully, pull the neck off to allow air in and stretc again and squat to ascerain its a good fit

Chest Zip

Choose the arm that has the closed end of the zip and work that arm in first as above.
Once in then work the second arm in.
Stretch your arms and then pull the neck over in one movement while "ducking" your head and push your head through the neck.

Removal
When removing a suit you should peel the suit in the revers of the above.
Once removed the suit should be inside out